--- Bournemouth Slump To Toothless Defeat ---
The Cherries lined up away to Derby after a run of poor results and performances with Tindall bringing Danjuma back into the line up for King and Kelly in for Rico as the system reverted to the more commonly seen this season wing backs with one up front.
There was an early scare at each end, Begovic clawing away a header into the ground at the far post and Solanke failing to make decent contact on a low cross from Stacey for what would have been a tap in.
Then on 11 minutes Lerma leapt high for a loose ball near the Derby box and when the players landed the Derby player was gushing blood. For some reason replays were in short supply so we didn't get to see properly what happened but presumably the ref felt he couldn't send him off after Saturday. I genuinely can't pass judgement as they didn't show the incident although the commentary team seemed to think it was harmless.
Now I want you to picture a rabbit. A particularly fluffy one. With blunt teeth. On MDMA. That's about how threatening we were for the rest of the half.
Danjuma ran offside with the regularity of a man with serious money on AFCB having the most offsides. Meanwhile we would actually have been better off if Brooks hadn't been on the pitch as every time he got the ball he lost it, in the process showing the physical prowess and balance of a toddler.
There were repeated attempts to hit the ball long. They were mostly embarrassing.
The central midfield battle was a lost cause as Derby overran us time and again, L Cook and Lerma both looking like our central midfield often used to when we played two in the middle against a team like Man City. Except this time…
At times out playing from the back was comical. Carter-Vickers was looking around in confusion as he had nobody to pass to but three Derby players closing in on him meaning his only option was the put it out of play for a throw.
Begovic saved from a shot after the ball was played through the channel next to Stacey. Then S Cook put in a heroic block to stop a Derby shot that seemed destined for the net. From the resultant corner Kelly was in the perfect position to win the header but his effort was weak meaning it dropped behind him where the man he was marking reacted quickly to smash the ball home. 1-0 to Derby.
Half time couldn't come quickly enough and this time JT was bold, changing the formation to four at the back with Smith and Carter-Vickers off with King and Mepham on for a form of 4-4-2, King partnering Solanke.
Derby were now sitting in closing out all the space in their half and hoping to hit us on the break. It was deja deja deja deja deja vu. With Tindall not seeming to have a Scooby Doo.
At one point I counted a line of eight defenders with four attackers trying to play their way through them. At the same time, we had four defenders sitting back on the halfway line and two central midfielders 15-20 yards deep of the attack. It was utter madness thinking we were going to break them down like that.
Mepham was presumably brought on for his ability to bring the ball out of defence but it was little in evidence although he did nearly twice lose the ball in dangerous areas with the Cherries lucky to escape punishment.
In matches like this you need a leader. Someone to step up and put in a performance over and above what you might expect of them. Credit to him, Steve Cook was nearly that man. Fed up with the inaction from the two central midfielders in front of him he resorted to dribbling the ball at and past the Derby midfielders and it nearly worked. They panicked when he did it, fouling him or chances almost being created.
This opening up space by stepping past men is what we needed to see from L Cook and Lerma but they contented themselves with trapping the ball. Take a deep and lengthy breath. Slowly turning around. Seeing a player make run which would require an incisive ball. Consider it. Decide it's too risky. Turning away. Seeing another player make a run which would require an incisive ball. Decide it's too risky. Pass to a defender. It put me in mind of this: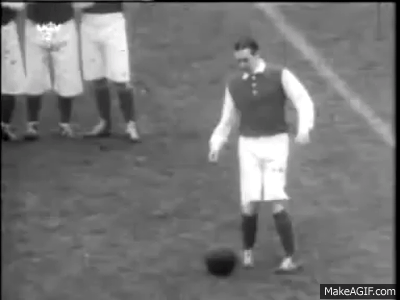 Meanwhile, as well as providing the only attacking impetus, Steve Cook was a one man Cherry wall at the other end, making last ditch tackles and interceptions that deserved to be seen at a higher level.
In fact, Derby came closest to scoring next with an excellent goal line clearance from a corner by Lewis Cook, where he managed to cover both posts.
Tindall rang the changes desperately trying to get any sort of tune out of what he had on the pitch but the end result sounded like me with a recorder at primary school. Nobody wants to hear that, or see what we were unfortunate enough to witness.
The aimless long balls continued and carried on being just as embarrassing.
There's nothing wrong with a long ball but our attempt at them looks like a team that doesn't know how to play the long ball playing the long ball. Funny that. It's also been the case in almost every match that we've tried them recently.
Wilshere came on but it felt like a desperate throw of the dice and so it proved since nothing changed.
After a set piece ran loose, Steve Cook and Mepham combined on our right wing for possibly the best piece of partnership wing play we saw from us in the match. There's the story right there.
Shortly afterwards a corner came in and Steve Cook nodded it back across the six yard box and Kelly managed to then head at goal only for the Derby keeper to pull off a fabulous save.
For a short time I resorted to desperately hoping we might get a penalty but I gave up on that thought when I remembered you need to have possession of the ball in the opposition box to get one of those. Remember how many penalties we won in the Championship season? For the naysayers from other clubs who complained at the time, we pointed out how much we were in the box with the ball, taking on players and so on. This match would be the perfect counterpoint to that, to show why some teams don't get many pens.
There was time for Stacey to flash a ball past the post but, in a way, I'm glad the team didn't get off the hook tonight. I never want us to lose but maybe the loss will focus minds on the serious questions that need to be asked and answered. No excuses.